If you are looking for a quiet place,
far from the urban noise and pollution,
THIS IS THE PLACE FOR YOU!

On the Apuan Alps, 850 metres high, you find the "Agritourismo Alpeggio". Trekking and hiking lovers can choose between exciting excursion and easier walkings under the shade of chestnut trees.


For food lovers, at the Alpeggio, you can also eat, all our products come from our fields and cultivations, you can taste and buy our cheese and salami, our meat and fruit of the forest.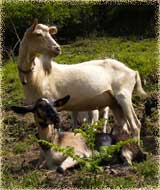 L'Alpeggio
di Vannoni Lara:
Loc. Le Calde
Pomezzana di Stazzema
P. Iva 01961680467
Tel. 339-5824831 oppure 335-6910033
So delicious lunch, dinner and tasty snack are guaranteed. The Alpeggio has typical wooden rooms where you can stay for the night if you want to spend your vacation here. To reach the Alpeggio there is a short walk, just a preview of the panorama of our wonderful Apuan Alps, that descend to the Mediterranean Sea.

If you want to know more about the Alpeggio, feel free to contact us, this is the place you are
looking for.